Kyasanur Forest Disease
Ron Smith, MD
Kyasanur Forest Disease (KFD) in the News
CDC. Kyasanur Forest disease (KFD) is caused by Kyasanur Forest disease virus (KFDV), a member of the virus family Flaviviridae. KFDV was identified in 1957 when it was isolated from a sick monkey from the Kyasanur Forest in Karnataka (formerly Mysore) State, India. Since then, between 400-500 humans cases per year have been reported. Hard ticks (Hemaphysalis spinigera) are the reservoir of KFD virus and once infected, remain so for life. Rodents, shrews, and monkeys are common hosts for KFDV after being bitten by an infected tick. KFDV can cause epizootics with high fatality in primates, but typically mortality is around 5%.
.
Saturday, 1 January 2033
What is Kyanasur Forest Disease (aka KFD or Monkey Fever)?

KFD, also referred to as Monkey Fever, is a tick-borne viral haemorrhagic disease, which can be fatal to humans and other primates. The causal agent, Kyasanur Forest Disease Virus (family Flaviviridae, genus Flavivirus), is a member of the tick-borne encephalitis (TBE) complex. It is transmitted by a range of tick species, with Haemophysalis spinigera being considered the principal vector.
Thursday, 16 March 2023
Why areca nut plantations are driving 'monkey fever'

A tick-borne infection often spread in areca nut plantations in India is among several on the rise around the world. Can we get better at tackling these outbreaks?
Quick Overview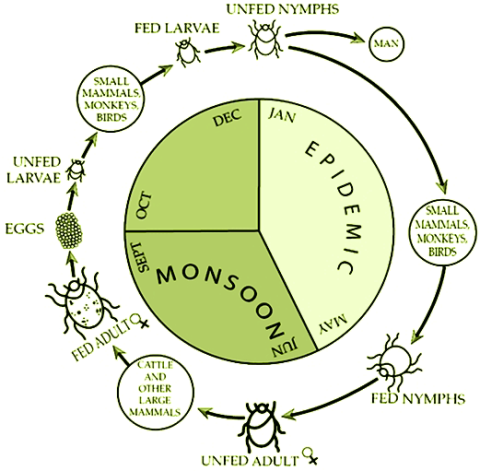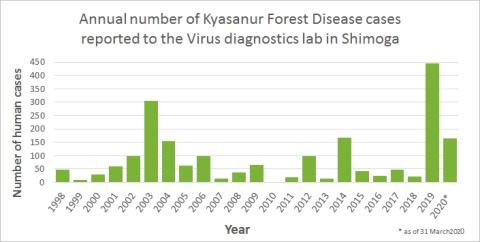 After an incubation period of 3-8 days, the symptoms of KFD begin suddenly with chills, fever, and headache. Severe muscle pain with vomiting, gastrointestinal symptoms and bleeding problems may occur 3-4 days after initial symptom onset. Patients may experience abnormally low blood pressure, and low platelet, red blood cell, and white blood cell counts.
After 1-2 weeks of symptoms, some patients recover without complication. However, the illness is biphasic for a subset of patients (10-20%) who experience a second wave of symptoms at the beginning of the third week. These symptoms include fever and signs of neurological manifestations, such as severe headache, mental disturbances, tremors, and vision deficits.
The estimated case-fatality rate is from 3 to 5% for KFD.
Diagnosis can be made in the early stage of illness by molecular detection by PCR or virus isolation from blood. Later, serologic testing using enzyme-linked immunosorbent serologic assay (ELISA) can be performed.